Shanna in a Dress on a Bike on a Mission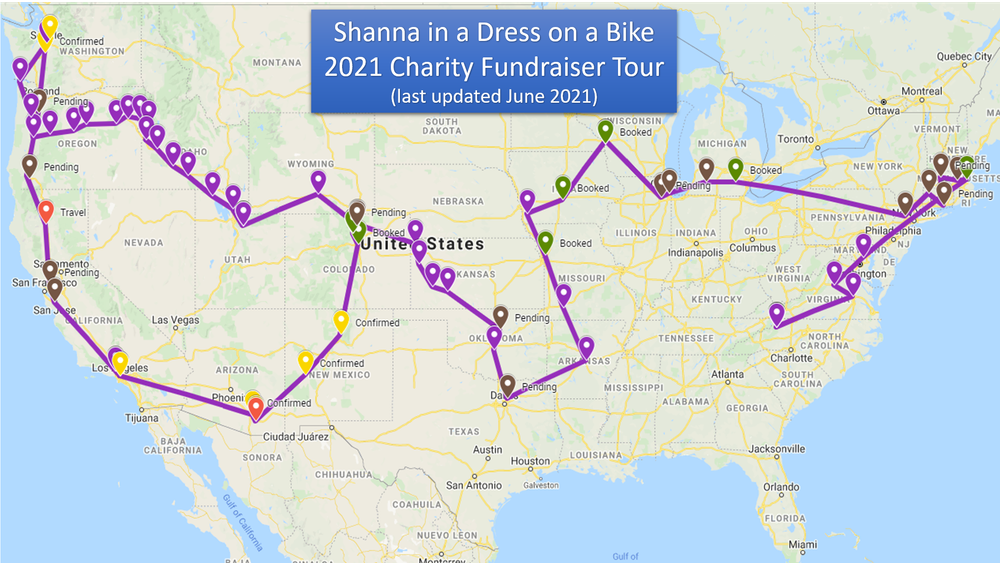 That's right -- summer of 2021 I'm bustin' out and putting some miles in the saddle to bring my music to folks from sea to shining sea while raising money for a great cause. 
I have a team of people backing me on this crazy-even-for-me idea and we've made a lot of progress shaping out what it's going to look like. But our plan is missing four critical elements: You, You, You and You!
You #1: We need hosts for shows. This means people who will host outdoor or COVID-safe indoor shows along our planned route. I will have a support vehicle driven by different "squires" who will support the tour, so we can go about an hour off our planned route to come do shows or adjust our route to add you in. If you are interested in hosting please fill out this Host a Show Survey to tell us more.
You #2: We need supporters. Our goal is to raise $50,000 to support the ride and our awareness-building campaign for the Pangaea World Foundation's No-Harm Certification Program. Pangaea is a Denver-based charity that is close to my heart. can make a tax-deductible donation through my GoFundMe page right now! Thanks to everyone who has already donated. As always, you can support my career for the long hall by becoming a Patreon Supporter! 
You #3: We need volunteers. There are lots of things to do to get the word out and to help with logistics for a project of this magnitude. Want to join the team? Send a message to shannainadressonabike@gmail.com and let us know how you want to help. We particularly need squires (see below), folks with fundraising, marketing, and social media chops right now.
You #4: We need company! The road is so much better shared with friends. We are breaking down the tour into manageable chunks -- some of which will be good for people to join us on the ride. Some legs will be more challenging (up to 100 miles per day) and others will be a little more forgiving (40 to 50 miles per day). We will be setting up a more detailed information about joining the ride soon. In the meantime, fill out this Ride With Us Survey to let us know about your interest. 
You #5: We need squires! We have a great logistics team getting us prepped for the tour, but we still need a couple of drivers (or back-up drivers) on different weeks in the tour. If you are interested in learning more, email the team at shannainadressonabike@gmail.com. 
The Mission: Pangaea's "No Harm" Certification
As of mid-June, we've already raised more than $10,000 toward my $50,000 goal for the tour! The funds so far will cover most all the very real expenses related to moving across the country on a bike with a support vehicle. After giving myself and my support team a small stipend for the three-month tour, the rest goes to spread the word about Pangaea World Foundation's "No Harm Certification Program. I am so grateful for those who have already supported this important mission. Learn more at the GoFundMe site!
RainSong makes some of the most beautiful and beautifully sounding guitars in the world. These carbon fiber masterpieces are made entirely without bracing for greater acoustic volume and cleaner, more refined tone. RainSong has graciously agreed to offer us a parlor-sized guitar at a deeply discounted price. After the tour, we will be auctioning this guitar off and giving the funds raised over our investment to the Pangaea World Foundation.